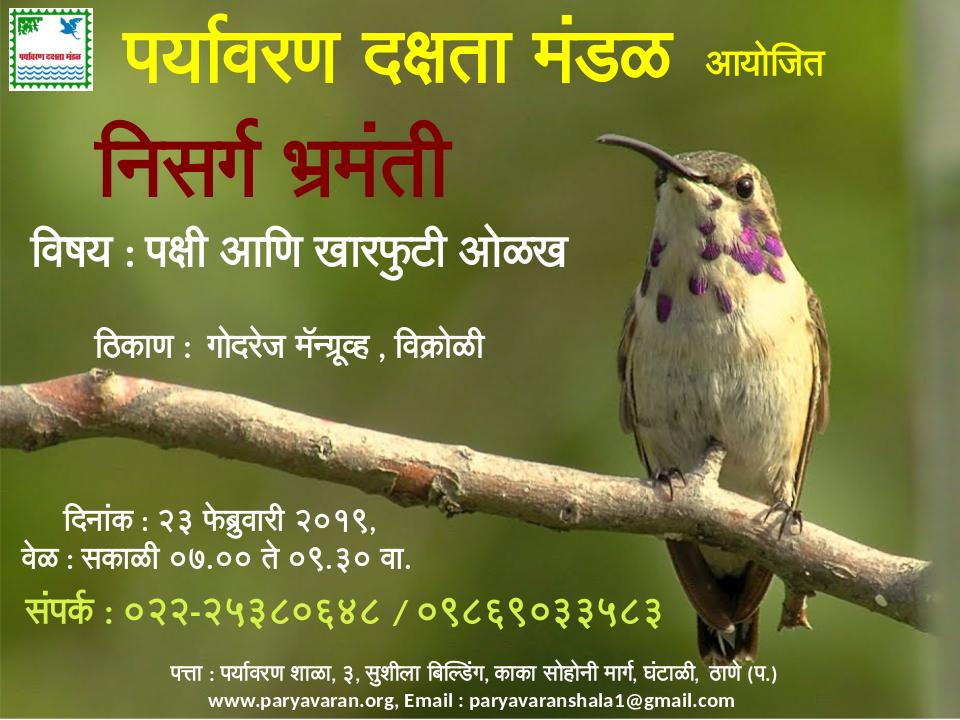 Godrej Mangroves
The Western bank of the Thane Creek is the single largest mangrove belt in Mumbai. A substantial tract of mangrove land is adjoining the Godrej, in Vikhroli. The vast expanse of these mangroves serve as a second lung of the city only after the Sanjay Gandhi National Park which is under immense environmental pressures. This wetlands and Mangroves acts as an important stopover for over hundred species of migratory birds including magnificent flamingos, gulls, etc. Nature trails will be a 2 Hours walk in nearby forest areas where we find some good birds and Mangroves. Godrej Mangroves has been one of the Biodiversity hotspot in Vikroli, Mumbai.
This nature trail is open for all, No age limit for that. shall focus on all sort of Birds and Mangroves that nature will gift us.
Outing Date:23rd February 2019
Time : 07.00 am to 09.30 am
Highlights : Bird watching and Mangroves
Note : Limited entries are available One should follow the rules and regulations given by the Expert and should  not leave the group till the nature trail ends.
Things to Carry :
Please wear dull coloured clothes
Maintain silence in such places Binocular If possible
Apply mosquito repellent cream, caps/hats, sunscreen etc.
For Registration, kindly contact on 022-2530648 / 9869033583
Paryavaran Shala, 3, Shushila Apartment, Kaka sohoni Path, Ghantali, Thane (W).