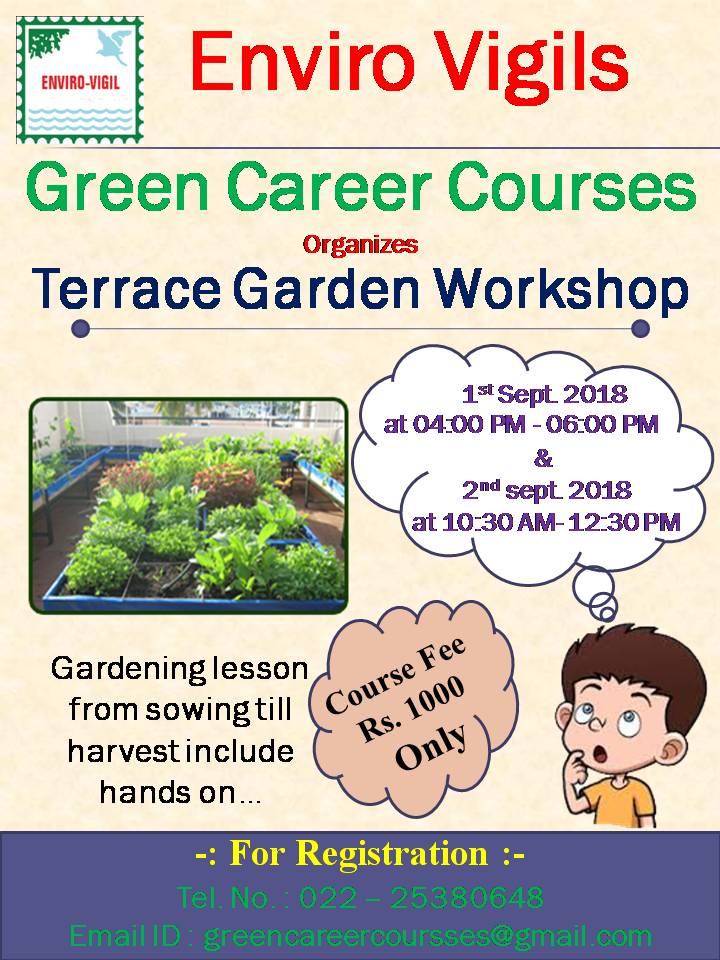 Enviro vigil arranges a two day's workshop on 
"Organic Terrace Garden" 
under Green Career Courses on 
1st Sept. 2018, Saturday 4.00 P.M.- 6.00 P.M.
 &  
2nd Sept. 2018, Sunday, 10.30 A.M.-12.30 P.M.
Learn about : Growing media of terrace garden, plant selection, gardening lesson from sowing to till harvesting and hands on etc.
Venue: 
 :
Enviro vigils Ankur theme park,
Thane-Belapur road,
TMCs Chhhatrapati Shivaji Maharaj Hospital Campus,
Behind Boiler House,
Kalwa West.
Tel: 022-25400012,  Mob: 9987334288
Note : Prior registration is must.
Workshop Fee: Rs. 1000 only. (Both day)
For Registration :
Tel. no. 022- 25380648 Mob: 9594174653 Time : 11am-6pm
Email Id: greencareercourses@gmail.com / pournimashirgaonkar@gmail.com
Website: www.paryavaran.org
Office time : 10.30am to 6.00pm.
F
or details pl. find attachment,
if you have any clarification pl. call me on 9594174653