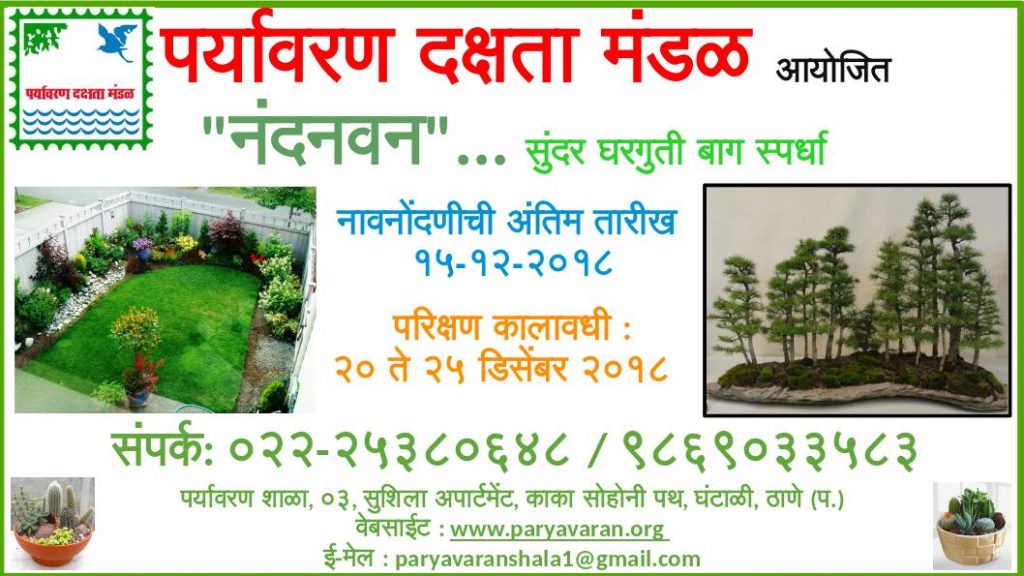 In today's changing times, our life is tied to a clock, but many people try to preserve the gravity of this stressful life by doing gardening. The Paryavaran Dakshata Mandal is giving them a chance to present such green foes in front of other people under NANDANVAN competition. Nandanvan is a very innovative and unique competition that the organisation has been conducting form last eight years. The objective of this event is to encourage all those garden lovers who grow whatever little they can in whatever space is available to them.. The competition will be held in 20th to 25th December 2018. Last date of registration 15/12/2018.
Please contact the following address to know more about this competition and to register for the tournament as soon as possible.
For more information : –
Paryavaran Shala: 3, Sushila Apartment, Kaka Sohoni Path, Ghantali, Thane (W) 400602
Tel: 022-25380648, 09869033583
Email Id: paryavaranshala1@gmail.com
Website: www.paryavaran.org
Note:
First come first serve.
Registration is must.
Restricted to Thane, Kalwa area.